Thanks for visiting.
Most of this web site is about pursuing a musical concept, chasing it, really, through a number of ensembles with a lot of excellent musicians over forty years and knowing that you both got there and you didn't.
It's also about documenting what did get done and by whom, with equal parts fun and frustration; essentially the entropy of bands. Particularly, in this case, a band continuum that insisted on playing original non-rock, non-jazz cyclical music.
There is probably more here than you ever wanted to know about The Demand Badger Octet, Merz Pictures, Queer Career, Soft Machine, drum sets and fuzz tones, as well as the emotional physics of musical negotiation with band members. But hey, as long as you are here…
I will also be adding to this site recommendations on a wide variety of things that I am pretending that you absolutely need: concepts from my "I Am Right, You Are Wrong Design Group," some neccesary book recommendations as well as the proper placing of art in your home, a personal crusade for me. Also you will find a handful of my essays, some of my blog wars, future guest star contributors, and finally more non-spectacular stories on the 60's and 70's.
But we start with the music…pick up your GPS and start navigating…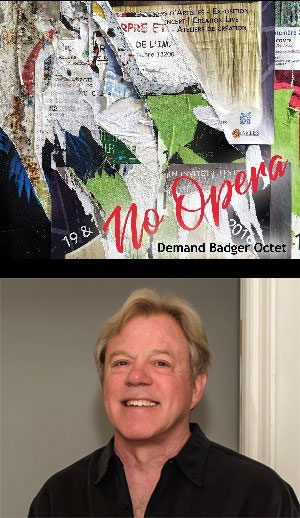 This This
( from No Oprea, The Demand Badger Octet, 2020 )
No Opera
( from No Oprea, The Demand Badger Octet, 2020 )
The Irish Good-bye
( from No Oprea, The Demand Badger Octet, 2020 )
Two Tafoms Neigh
( from No Oprea, The Demand Badger Octet, 2020 )
Still in the Imagining State
( from No Oprea, The Demand Badger Octet, 2020 )