This eulogy for my father-in-law, Joe Radovich (March 26, 1921 – September 18, 2012), was delivered at a gathering of friends and family in celebration of his life in Geneva, Illinois on October 12, 2012.
Chuck got it right: "an Irish wake for a Serbian." This is not a sad day. It can't be. Sadness would be for a life unfulfilled or cut short. Joe Radovich's life was a life lived in full, virtually all of his 91 years.
You see a long line waiting to get into a theatre. You see loved ones ahead of you in line. You do not weep when they are admitted ahead of you. We will all be in that theatre soon enough…in the blink of an eye.

When you meet someone important in your life you see them first through the prism of others. When I first met Joe I first knew him through the lens of my wife and his daughter, Valerie, a lens of absolute and unqualified love. Through early loss their affection, enjoyment and dependence on each other grew and never changed. It was central.
The first time I actually met Joe was at his 65th birthday party, a surprise party that Virginia had organized at their home with a lot of guests. I was nervous, I didn't know a soul other than Val and I was meeting the "parents." Everyone was nice, of course, and Joe began to open presents. He naturally received a lot of bottles of good Scotch and wine. But every time he opened one he would say, "John, I bet you know about this one!" or "John, this is good stuff, right?" Other guests were starting to look at me like I was about to leave One Crawford and head directly to Rehab, take in an AA meeting… maybe an intervention … I finally figured out that he was confusing me with Val's prior boyfriend, a liquor distributor. An easy mistake: he was about six-foot one, dark complexioned, and a body builder. I think we can all understand the confusion.
An interesting thought is that the only thing that people remember about you is how you made them feel. Ultimately nothing else matters. I know that this is true and it is also why there are so many people here today. Joe genuinely liked people, he respected their hard work and labor and it simply did not matter whether that labor was working in a restaurant or as a lawyer or as a judge. He saw and enjoyed you, he related to you.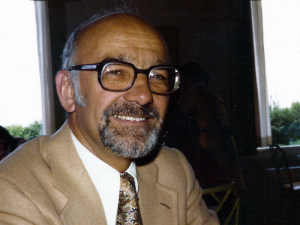 Maybe it was his Serbian immigrant father who worked on the Railroad seven days a week, maybe it was being raised by five older sisters, maybe it was – cliché worn though it may be — him becoming a living, breathing embodiment of the American dream, coming from extremely modest circumstance, and working his way to the Law and Geneva and all of you. Whatever it was, he made you feel good to be with him.
This is not to say he did not have his faults – he did – and I would like to list a few right now:
He did not curse well at all, mostly because he did not curse. As a fan of cursing that always bothered me. If he was fed up he would unleash "that's nonsense" or "that's nonsense, doll" which could sound formidable I'll admit, but again…
He had horrible taste in wine…German, sweet wine was a favorite. It literally could not be too sweet, cavity-producing wine – Gewurztraminer – flat 7-Up in a nice bottle…horrible.
He could not tell a joke…hearing Joe tell a joke was funny only to see how mangled or incoherent the punch line would become, an audio car accident. Brutal…
His love of the outdoors was lost sometime in the 1930's… I think there are vampires who have seen more recreational fresh air and sunlight first hand than Joe Radovich. Once his outside work was done he made a beeline for the indoors. Sit outside on a beautiful night at a restaurant? Don't think so…
But today we forgive all of these sins….
The last time I saw Joe he was at peace. I had left the hospital room where Virginia, Val, Chuck, Barb, Jenny and I had been with him in the last days. I left for a couple of hours to visit my mother and when I was returning I got a text from Val saying to come back to the hospital, the end is imminent. I hurried as fast as I could and I bounced into the room expecting to see everyone bedside as I had left them. Instead there was only a very peaceful Joe lying there, no one else… I was more than a little surprised.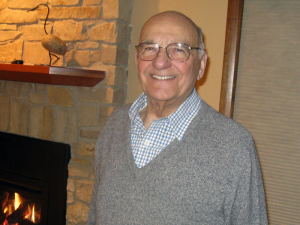 I asked for the attending nurse. I wanted to know if the family knew he had passed. I was assured that they knew so I got to sit with Joe for a few moments alone. Assuming he was looking down on me from the top of the room, I thanked him for raising such a wonderful daughter whom I have loved for more than 25 years. I thanked him for his love, his welcoming me into the family, and mostly I was able to tell him how important he was to me. I had a lot to thank him for.
While Joe was not religious and did not believe in the construct of Heaven by any means, he was also aware of Physics, even Spiritual Physics. Joe knew that energy does not cease, it cannot cease; it merely transforms.
To the transformed Joe Radovich: I toast you with all my heart.