New from The Demand Badger Octet:
Beware of Gifts
(A review in reverse)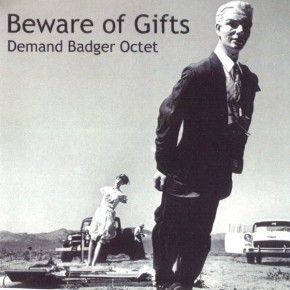 This is the new CD from my semi-fictional ensemble, the Demand Badger Octet. Fictional in the sense that I am playing all the parts except, happily, for Molly Kentopp (nee Beaird) who returns to add vocals and harmonies to three of the four tunes and guitarist Hugh Murphy who plays on two of the pieces as well. I have played with Hugh since the 1980's in multiple ensembles including Amoeba Buddies and Queer Career and he is one of my absolute favorite guitarists.
Everyone else listed is definitely a real person; almost all of them were in my first grade class. I just loved their names: Monique Maifair, Anne Asp, Dorsey Worthington. But more importantly, after playing in and writing for bands and ensembles since 1970 it is much more fun to write parts for a person and imagine them playing and rehearsing it. It becomes more animate. All the parts are played in real time, recorded throughout 2012.
I wrote and recorded the tune, Cavemen Having Dessert in 1987 (which also featured Hugh Murphy) but was never completely happy with the original drum parts. I have been frequently asked about the lyrics to Cavemen. Not graciously either… usually as in "what in God's name are you talking about?"
The initial premise came to me when I was preparing to microfilm a book written in Arabic. As you know, one reads Arabic right to left and therefore you start a book at where we would consider the end. It occurred to me that this could very well be like our concept of progress. We think we are booming and zooming in the evolving direction (forward) of progress but what if we are really moving in reverse? Despite all assurances would we know? The lyrics use the metaphor of a film moving forward / reverse instead of a book but that is the theme of the piece.
Plus who does not want to hear a good Squanto reference?
The Ralph W. Davis Office Party is just that with a lot of scenes and dialog recalled from a Brokerage firm's Christmas party in Chicago I attended way too long ago to even say the date out loud.
Strictly Speaking was written this fall, the lyrics are fairly self explanatory featuring Molly and her wonderful harmonies with Hugh on electric and acoustic guitars. The title track, Beware of Gifts, is in 12/4 time and is the sole instrumental piece.
Please listen to the CD and if you pretend to like it I will be your best friend for an entire fortnight. Which will be easy as almost no one I know can actually remember how long that is.
Please also visit my website www.johntrimble.net